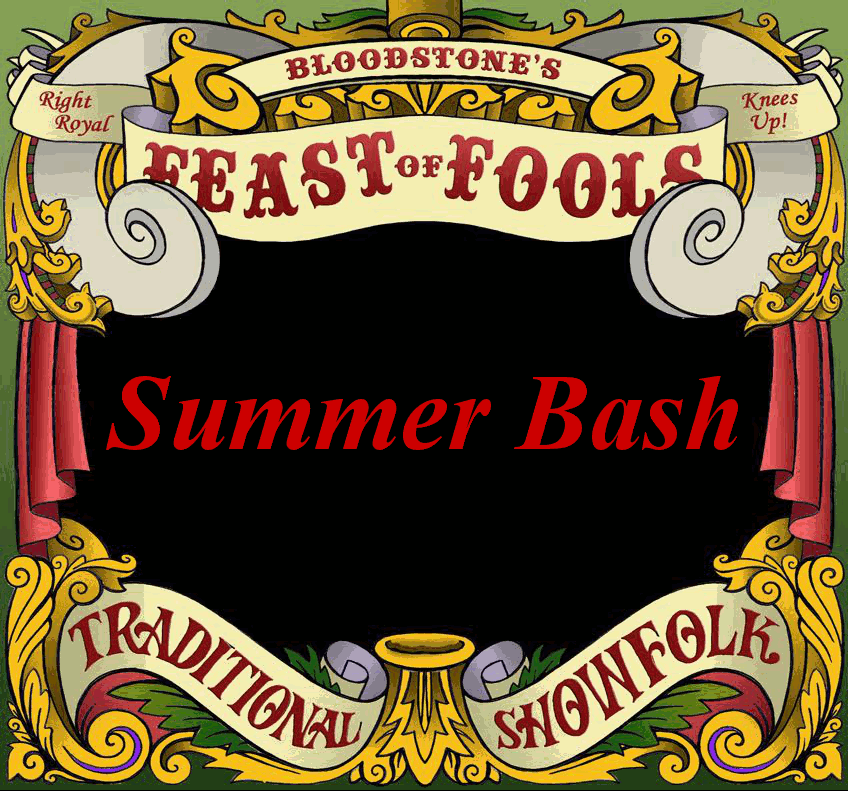 Friday 6th - Sunday 8th July Feast of Fools Summer Bash.
For info and tickets visit
Bloodstone Arts Website
"Roll up! Roll up! Roll up!
Step right up for 'The Feast of Fools' spectacular ~ bringing you '1000 Years of Albion'… from Kingdoms of Ancient Britain through the Empire of Victorian England... to the Rocking & Rolling reality of the Unite
d Kingdom today.…

Stroll around our Fayreground imaginarium where Alkhemysts ply their trade & Tattooists work their craft, where Snake Oil sellers rub shoulders with Tarot Readers & where Circus lads & Dancing girls vie for your attention. Come m'dearios & taste our wares… eat at Sweeney Todd's Pie Shop, drink at the Honeymoon Tavern & be merry with our Tarts & Tramps.!
Behold the Dragon Stage where the Wild Folksters whirl, Vaudeville bands jest & Jazzsters swing to the groove. Clock the cunning stunts of the Soulfire Sideshow! Cock an ear to our Ravers & Ranters! Come & have a good old ding-dong!

With Bloodstone's Guild of Traditional Showfolk feat. Calico Jack, Firefly Belly Dancers, Feats of Arms Warriors, Melissae Maypole Dancers, ThunderBolt Drummers, Orryelle, Tribazik, Merrymakers Music Hall, Alcoholympics, Buffo's Wake, Jonathan Kay, The Turbans, Tragic Roundabout, Johnny Cage & the Voodoogroove, Fiddler on the Hoof, Total Ceilios, Weapons of Mass Seduction and your Ringmaster Harlequin.

Come join us for three days & nights of eating, drinking & wild merrymaking around a crystal lake in a paradisal woodland garden.
For info & tickets make contact through our guildhall at BloodstoneArts.com

Wassail!"
This one should be quite good.