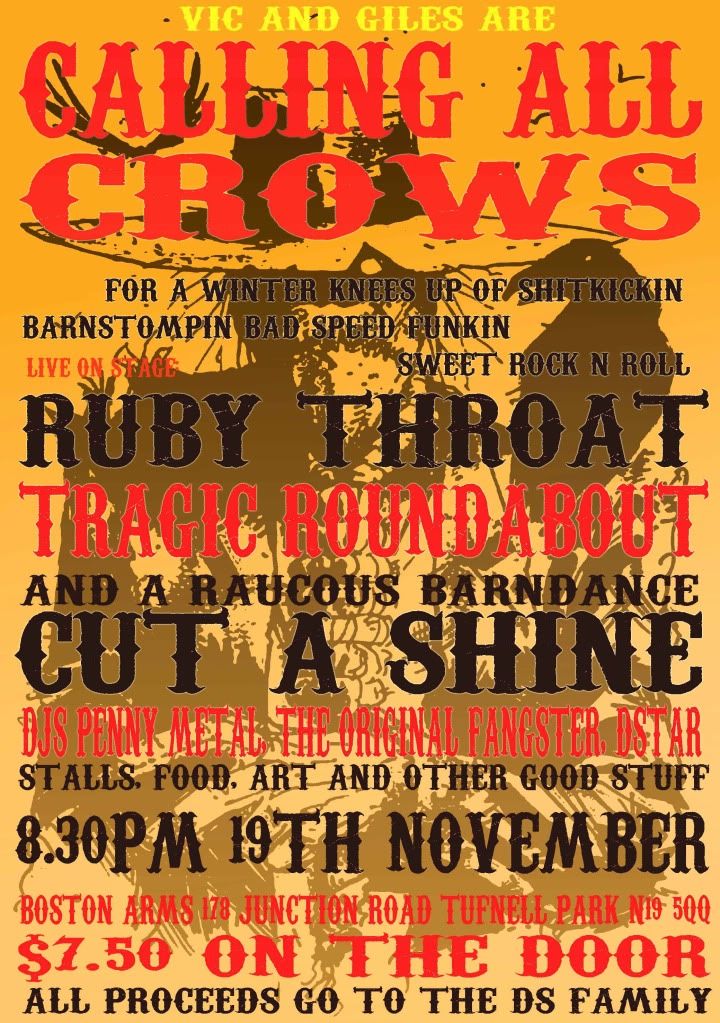 Saturday 19th November - The Boston Arms
Junction Road, London N19 5QQ
Top gig in aid of the DS family.
"hey darling hearts
please join us for a right old knees up jolly winter gathering on the 19th Nov at the Boston Arms .. twill be some raw shit kickin bad speed funkin barnstormin fantastic sounds from the incredibly exciting and endearing to the end faster than the speed of light Tragic Roundabout .... the totally awesome Ruby Throat ... the imminitible Penny Metal, The Fang, the Dstar on the decks and a rip roaring raucous rabble rousin Carnage Barnage ..from cut a shine
all for $7.50 with a bit of art and some stalls thrown in.
cant wait to have a get together....all proceeds will go to Yogos angels the DS family
doors 8.30
last one standing 3am
xxxxxx xxxxxx xxxxxxxx xxxxxxxxxx LETS HAVE IT LARGE X xxxxxxxxxxxxxxxx xxxxxxxxxxxx xxxxxxx
much love respect joy and sadness too.
vic"
This one should be quite good!